Shark Tank Contest Teaches Students About Business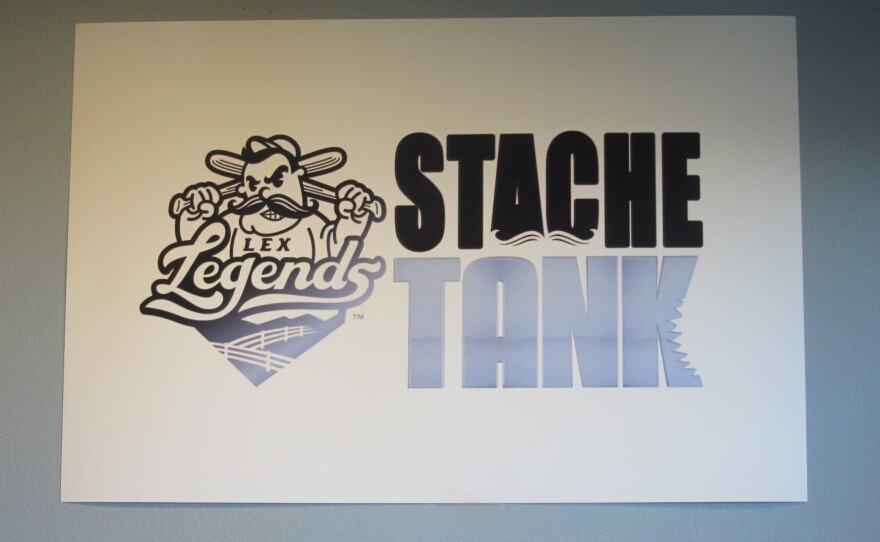 Shadowen and Hayden presenting a Sketchup image of their proposed lounge.
Chase Cavanaugh
Students Jenna Strange, Zachary Eichner, Savannah Hayden, and Olivia Shadowen.
Chase Cavanaugh
Another group presenting their plans for a climbing wall.
Chase Cavanaugh
The basketball court the Legends aim to replace.
Chase Cavanaugh
In the TV show "Shark Tank," aspiring entrepreneurs pitch their ideas for new products. Their goal, impress them enough to secure a source of money for their future enterprise. A local group used this premise to teach students about business.
Lexington's minor league baseball team, the Legends, had a problem. A basketball court behind their stadium's first base line that wasn't getting much use, but they weren't sure what to replace it with. To solicit ideas, spokeswoman Rebecca Barnes said they asked freshmen at STEAM Academy (short for Science, Technology, Engineering, Arts, and Mathematics) to pitch their suggestions Shark Tank-style.
"Well we really just wanted to figure out a great way to involve our students in community projects and what better way to invite them out to the ballpark and come up with a way that they can give back as well as highlight what they do in the community," she said.
30 teams of students worked on plans for the space over the fall semester. They used Google Sketchup to create 3D models of what they wanted to build, while conducting detailed research on the materials they would need, how much their project would cost, and what would attract visitors. Student Savannah Hayden says the process was quite involved.
"You have to basically start with nothing but just little ideas of things that might be fun, and from there on you just had to work really really hard to get it all together and make it how you like it," she said.
Last week, eight of those teams had the opportunity to present their ideas before the Stache Tank, named for the Legends' well-groomed mascot. Judges from the team, city government, and local businesses heard a variety of pitches,. These included plans for a climbing wall, a hangout and gaming space, or in the case of student Zachary Eichner's group, a two-story lounge with a glass wall facing the field.
"Some of the other spaces take away, I think, a little bit from the fact that you are at a Legends game and that you're paying to be at a legends game, so we tried to make sure that the entire time you were in our space , you still knew in the front of your mind you were at the Legends baseball game," he said.
As in Shark Tank, the judges scrutinized each project carefully, asking about elements that are ambiguous or unclear.
Unlike the television, show, however, marketing director Ty Cobb says the goal isn't to poke holes in the proposals, but rather, to refine them.
"We have the ability to do whatever we want here and when we say it, we mean it. We can take these ideas, as outlandish as they are, and they weren't, put pens to paper, put hands to work, and actually build them," he said.
STEAM Academy director Tina Stevenson says Stache Tank synergizes well with the kind of project-based learning that students carry out in the classroom, and the back and forth exchange with the judges helps emphasize real life-constraints such as cost and feasibility.
They are learning that to run a business, start a business, to even develop a business plan takes time. They are really making a connection between what they learn at STEAM Academy and attaching it to the real world, so it's authentic learning," she said.
For many students, such as Jenna Strange, the program was also a chance to learn skills that would help them in future careers.
"With the return on investment and math in it, it gives all of us an experience that we wouldn't have had if we didn't go to STEAM. It just prepares us for future things in life," she said.

Having seen 8 ideas, the Legends will take the next couple weeks to decide the overall winner, with the final announcement likely to come on February 1st . Director Stevenson says regardless of which team wins, she's proud of all her students.
"If you think about it, these are 13-14 year-olds, maybe 14-15 that have ideas, and are very creative and innovative," she said. "Sometimes people say at STEAM that if we would get out of the way (the adults), and let students dream and just dream big, they can come up with some pretty neat ideas, and they've proven that today."