Search and rescue continues in Eastern Kentucky, as further weather concerns loom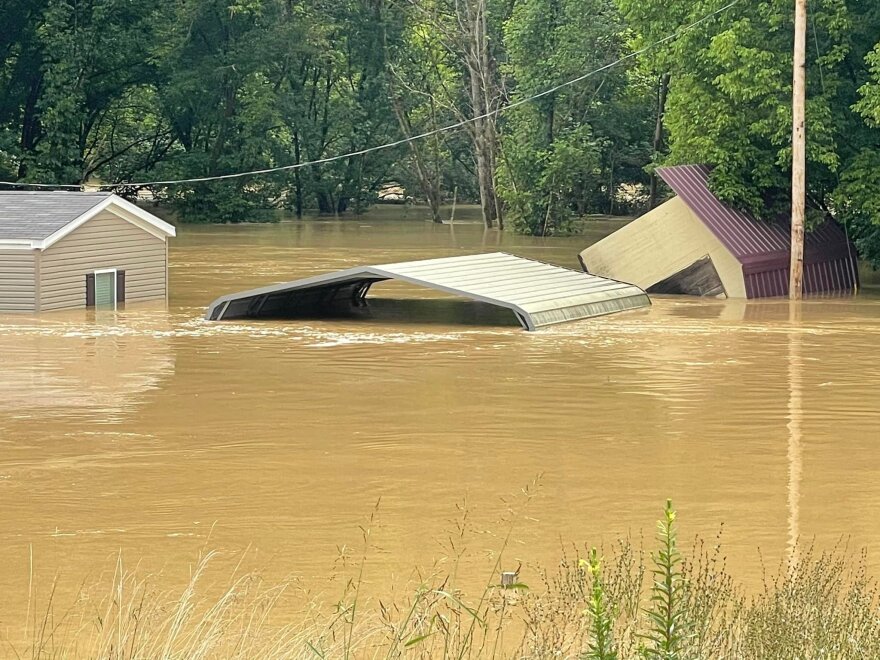 Nearly five days on from the flash flooding that tore through parts of Eastern Kentucky, the search is still underway for hundreds of missing.
The waters, which have receded in some areas, along with washed out bridges, and damaged roads have prevented emergency teams from reaching all affected areas.
And Gov. Andy Beshear said the "search and rescue" phase isn't over.
"I anticipate that we will continue with that for at least the next couple days, though we're certainly working on the emergency housing at the same time. In many ways, we have our first phase overlapping with our second phase right now."

Gov. Andy Beshear
Meanwhile, the confirmed death toll is rising, with at least 35 now recorded and more expected as crews continue their work. Bodies are being flown to Frankfort and housed in refrigerator trucks to allow for autopsies.
The state has set up a relief fund, as it did for the Western Kentucky tornadoes. Like that fund, it will first pay for the funeral services for victims. As for donations, the region is prioritizing monetary gifts, cleaning supplies, and bottled water.
As rescue efforts remain ongoing, the weather forecast could continue to complicate matters. As hard hit as the region has been, Beshear warned residents to keep an eye on the radar.
"The most risk is on the northernmost part of the impacted area. It is very unstable weather and it could be up to even an inch," the governor cautioned. "Just as concerning, high wind. You think about how saturated the ground has been. It could knock over poles, trees, so people need to be careful. And it's even going to get tougher. When the rain stops, it's going to get really hot and we need to make sure people are ultimately stable by that point in time."
More than a dozen emergency shelters have been set up and are housing nearly 500 people. One small bit of encouraging news: the original number without power — around 24,000 — is reportedly down to around half that at over 12,000.
Workers are making progress restoring cell service as well, notably in Letcher County.
In the meantime, Beshear anticipates the federal government will expand areas that are eligible for individual relief as the scope of the disaster is coming into focus.
Reporting missing persons:

If you need to report a missing person in the counties of Breathitt, Perry, Knott, Letcher or Leslie, contact Post 13 in Hazard at 606-435-6069.
If you need to report a missing person in the counties of Magoffin, Johnson, Martin, Floyd, or Pike, contact Post 9 in Pikeville at 606-433-7711.
If you need to report a missing person in the counties of Jackson, Owsley, or Lee, contact Post 7 in Richmond at 859-623-2404.
If you need to report a missing person in the counties of Wolfe or Morgan, contact Post 8 in Morehead at 606-784-4127.
If you need to report a missing person in Harlan County, contact Post 10 in Harlan at 606-573-3131.
If phone lines are busy, officials urge people to send an email to ksppubaff@ky.gov and include the following information:

Your name (first, last)
Your phone number
Missing person's name (first, last)
Missing person's home county
Missing person's description (gender, age, race, etc.)
Missing person's home address and phone number