AG Suing Governor Over Mid-Year Education Cuts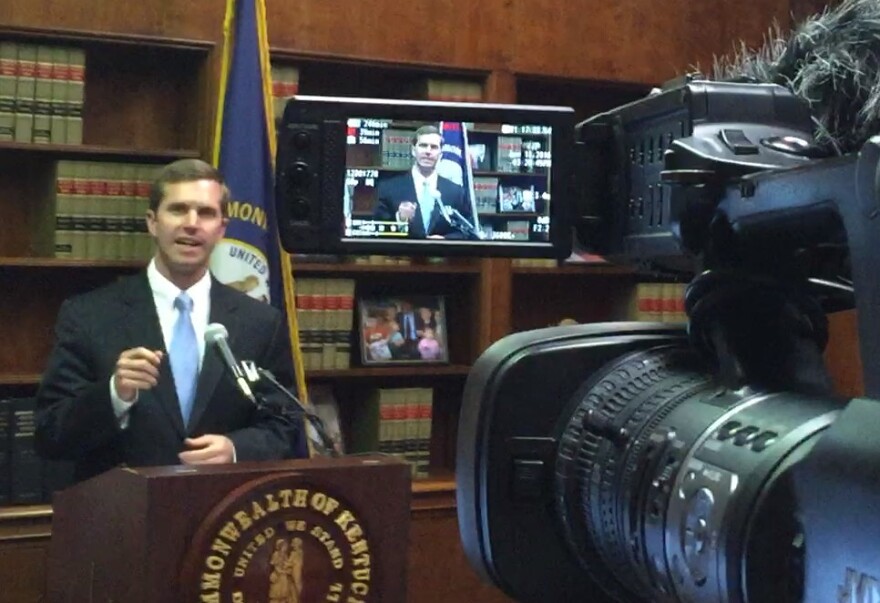 Kentucky Attorney General Andy Beshear is making good on a promise to take legal action against the governor over fourth quarter education funding reductions ordered in March.
On April 1, Beshear gave Republican Gov. Matt Bevin a week to walk back 4.5 percent mid-year cuts to universities' budgets, arguing Bevin overstepped his statutory authority in bypassing the legislature. Now, three days after his self-imposed deadline, he's heading to court.
"No governor has the power to do what this governor has done," Beshear declared during the Monday press conference. "And I would sue any governor who did this, whether Democratic or Republican."
By unilaterally enacting the $41 million in reductions, Bevin ran afoul of state laws governing budget cuts and violated the separation of powers - according to the top law enforcement official.
In a statement, Bevin spokesperson Jessica Ditto writes, "As best we can make sense of his rambling press conference, we strongly disagree with the Attorney General and will respond as necessary in court," adding that Beshear, a Democrat and son of the previous governor, is deflecting attention away from corruption allegations and personnel issues in his office. Tim Longmeyer, a former deputy attorney general under the younger Beshear, resigned last month and is facing federal bribery charges.
The attorney general repeatedly denied the suit is political in nature.
In the meantime, Beshear is pushing to expedite court proceedings to restore the higher education dollars as soon as possible with a hearing on a temporary injunction slated for this Thursday in Franklin Circuit Court.
The action comes as differences over education funding, scholarship dollars, coal severance funds, and other matters continue to stymie state budget talks. In a letter to the governor signed by nearly all the state's public postsecondary institutions, school presidents agreed to absorb 2 percent current year cuts - if they survive the legal challenge - followed by 4.5 percent reductions the next two years.
Monday, House and Senate leaders signaled they're prepared to shift the final day of the 2016 session to Friday, April 15 to make time for more budget negotiations.