Ky. AG Beshear Sues Opioid Distributor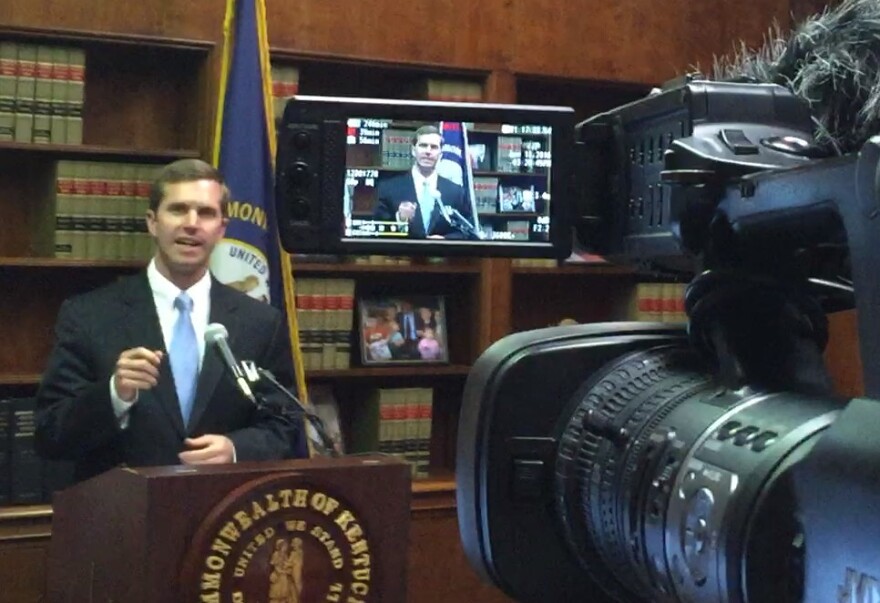 Kentucky's attorney general filed a lawsuit Monday against another pharmaceutical distributor linked to a pipeline inundating the state with dangerously addictive opioid painkillers. Cardinal Health was accused by Attorney General Andy Beshear of distributing millions of prescription opioid doses into a state struggling with drug overdose deaths.
It's the third opioid-related lawsuit filed by Beshear's office since last November. Cardinal Health called the lawsuit "baseless."
"These companies were following a playbook," the Democratic attorney general said Monday. "The playbook gave them record profits and left us with devastation."
Kentucky has been hit hard by the opioid epidemic. Last year, more than 1,400 people died from drug overdoses in Kentucky, up 39 percent in three years. The biggest culprit was opioids, including prescription painkillers, heroin, and fentanyl — a synthetic, more potent form of the drug.
The latest lawsuit accuses Cardinal Health of using misleading business practices to funnel huge volumes of highly addictive prescription drugs into the state. It claims the Ohio-based company failed to report suspiciously large shipments to state and federal authorities.
The suit was filed in state court in Louisville.
Cardinal Health said Monday it cares deeply about opioid addiction, and pointed to a program launched last year to augment its efforts to combat abuse. The program, it said, aims to prevent the diversion of pain medications away from legitimate uses.
As for Beshear's lawsuit, the company said: "We do not believe litigation is the solution to this problem and will defend ourselves vigorously against baseless lawsuits."
Beshear said Cardinal Health has been a big contributor to the prescription opioid pipeline.
Kentucky pharmacies filled 307.2 million doses of opioids from Feb. 1, 2016 to Jan. 31 of this year — amounting to 69 does for every Kentuckian, Beshear said. Based on its market share, Cardinal Health would have distributed 63.6 million of those doses, he said.
In Floyd County, based on the company's market share, Cardinal Health distributed about 11.6 million doses of prescription opioids over a six-year period ending Dec. 31, 2016. That amounted to 302 doses for every person in the eastern Kentucky county, Beshear said.
Elsewhere in Appalachia, Cardinal Health's distributions during the same period, based on market share, would have represented 245 doses per person in Clay County and 222 doses per person in Bell County, he said.
Beshear filed suit last month against McKesson Corp., a San Francisco-based pharmaceutical distributor. He sued Endo Pharmaceuticals and Endo Health Solutions last November.
McKesson has said allegations it fueled opioid abuse are unfounded. An Endo executive has said Beshear's attacks were "offensive" and said the company would vigorously defend itself.
Beshear on Monday endorsed bills pending in Kentucky's legislature to funnel opioid-related settlements into a fund to support drug prevention, recovery and enforcement efforts.
"This is blood money," he said. "And money that comes from these companies ... should be restricted by law, mandating that it goes to fight this epidemic."
Beshear said his office would be assisted by outside attorneys to pursue the Cardinal Health litigation, as is the case with other opioid-related lawsuits.
The AG's office sometimes hires outside attorneys to help with big cases, most often against large corporations. Those attorneys don't get paid unless they win the suit. They sign a contract with the AG's office guaranteeing them a certain percentage from a settlement or judgment.
Beshear's decision to seek outside assistance has become another flash point in the Democratic attorney general's political feud with Republican Gov. Matt Bevin. Beshear said Monday he had not given the governor's office notice of the Cardinal Health lawsuit.
Bevin spokeswoman Elizabeth Goss Kuhn said Beshear's announcement Monday was more "political grandstanding." Kuhn said Kentuckians deserve "the deployment of the full resources of the commonwealth in the opioid litigation." Kuhn said the governor's office made a recent overture to Beshear, asking that they work together to pursue opioid litigation.
Beshear said Bevin's recent actions amount to "smoke and mirrors." Beshear said he would be willing to listen to valid input from Bevin's administration regarding opioid lawsuits, but added: "This is my job, and we're going to move forward with it."